Bojak Bindi Dreaming ADM JDX ADO5 JDO GDX SPDX SD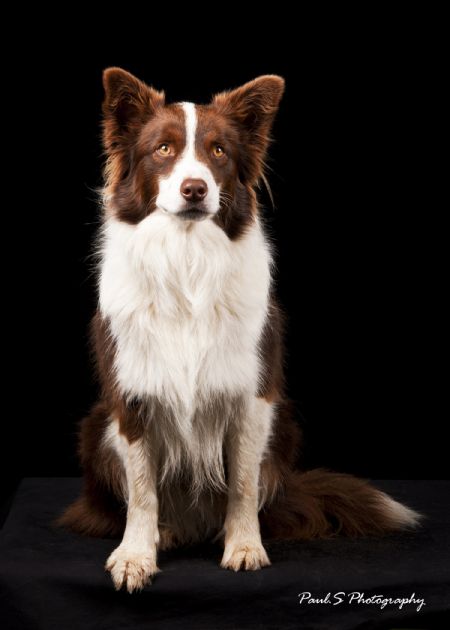 Bojak Bindi Dreaming ADM GDX JDX SPDX AAD SD ADO5 JDO
Chocolate & White......Born 25th September, 2007 Flew with the Angels 20/9/2019
Sire: Bojak Pied Piper (S. Borderstrand Bronze King / D. Zaurora Gypsy Dust)
Dam: Bojak Lovem N Leavem (S. Milangimbi Luv Me Tender / D. Wottapud Highland Fling)
Agility Titles Attained
18th June, 2010 Jumping Dog
20th January, 2011 Gamblers Dog
15th April, 2011 Agility Dog
30th June, 2011 Strategic Pairs Dog
1st October, 2011 Australian Agility Dog
17th March, 2012 Snooker Dog
19th May, 2012 Excellent Agility Dog
1st June, 2012 Excellent Jumping Dog
17th March 2013 Open Agility Dog
2nd June 2013 Excellent Gamblers Dog
3rd August 2013 Jumping Dog Open
3rd August 2013 Agility Dog Open No. 2
9th August 2014 Agility Dog Masters
21st September 2014 Agility Dog Open No. 3
19th September, 2015 Agility Dog Open No. 4
19th September 2015 Strategic Pairs Dog Excellent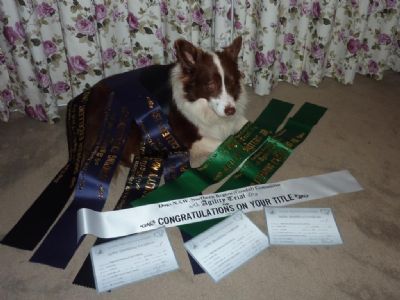 Bindi's success @ the
NSW Regional
Coffs
Harbour 1st, 2nd & 3rd June 2012.
Out of 12 runs, there were only two that were DQ'd . All the rest either ended in Qualifying scores, or over time by a fraction of a second, or just single faults resulting in NQ's . We are so proud of this little girl, she has come a long way in the last 12 months.
September, 2012...at five years of age,
she is still enjoying her agility & is now up into Masters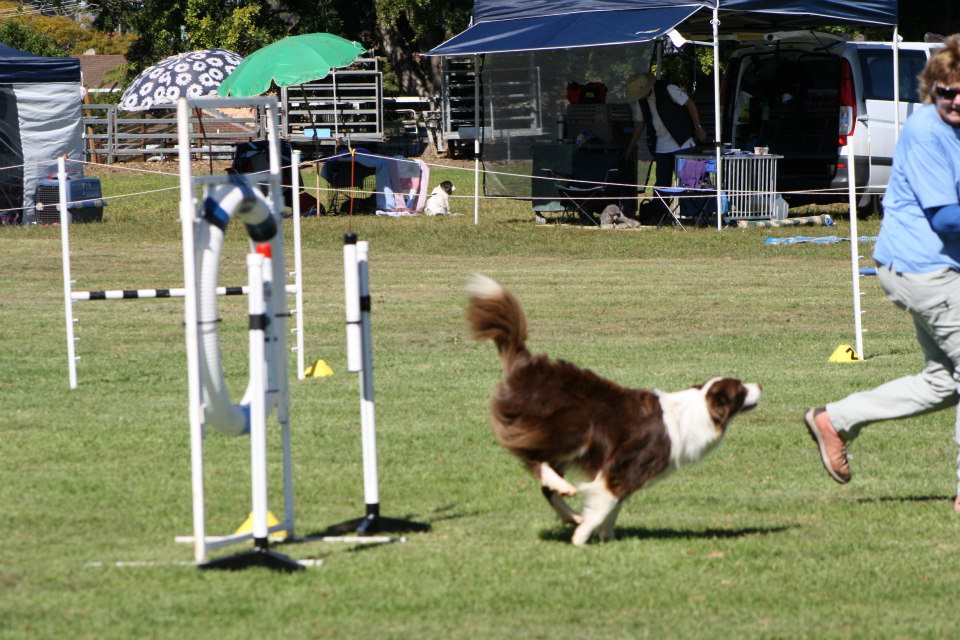 "Did I do well, Mum...Did I ???" "Yes, you did well, my little Fruitcake"
Time to Relax & get a little dirty :)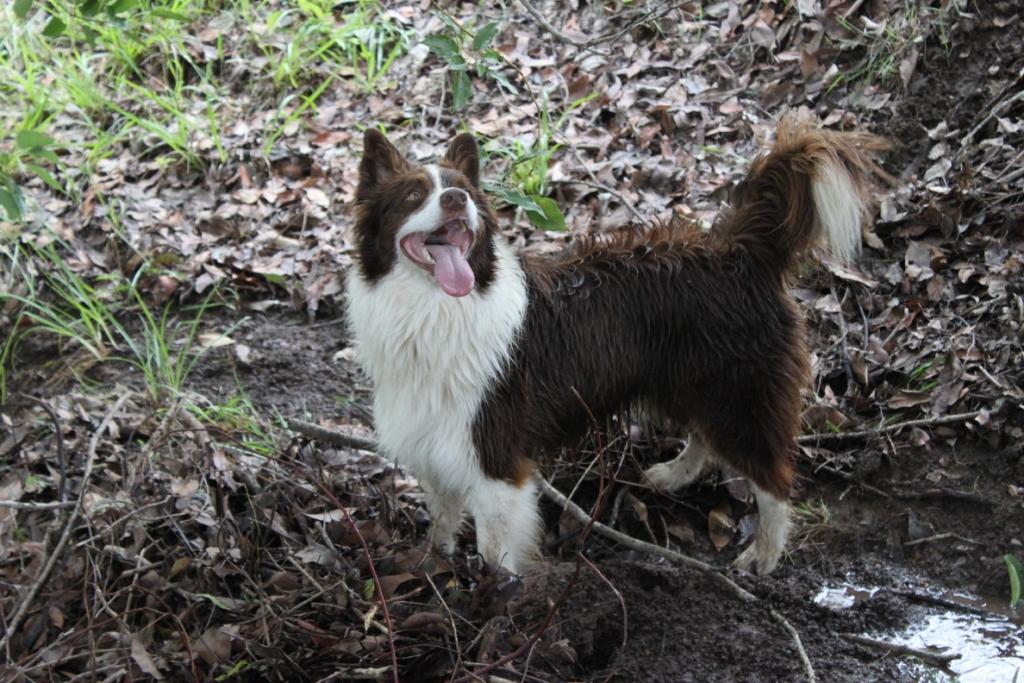 Enjoying herself out boating on the Bellingen River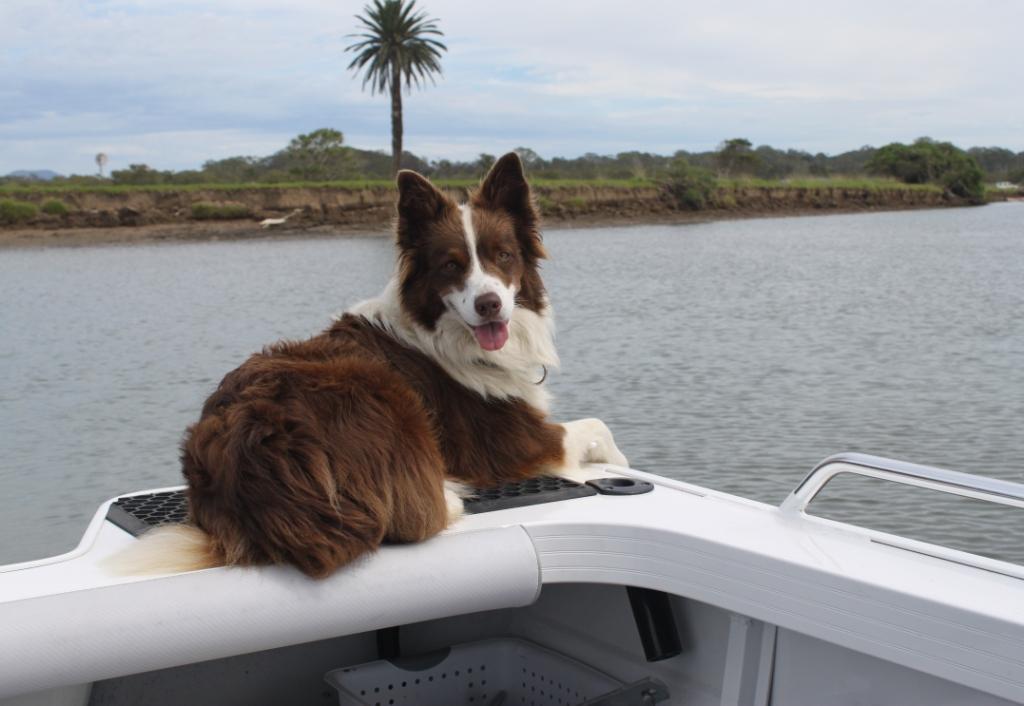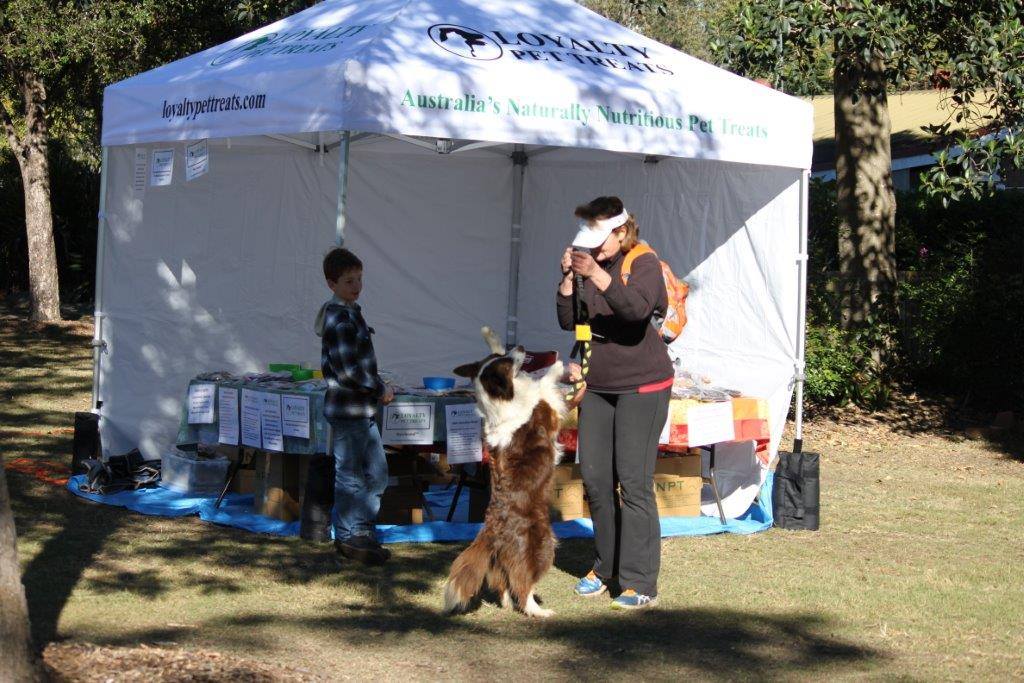 She really loved the Loyalty Pet Treat Stall at the Agility Nationals. She did a taste test & performed a trick of her choosing to show which treat she loved the best. I think the all natural dehydrated minnows won hands down.
29th September, 2019
Today we said goodbye to our darling Bindi. She went downhill fast the last couple of days & it was discovered she had a tumour on her heart & this was putting pressure on her trachea (wind-pipe). Evidently this was also the likely cause of her sudden kidney failure.
Bindi was our first agility dog & 10 years ago, to this date, she & I entered our very first trial (at Coffs Harbour). Virgin trialers the two of us & our first agility run resulted in a "Q" & third place. Neil Lester was the judge.
She became known as "The Queen of Distance" & achieved her Open Agility Title 5 times over. She was never a fast dog, but she hardly ever knocked a bar or missed a contact. She is now at the Rainbow Bridge with her favourite Judge, Jody Brown.
We learnt to dance together. She loved performing tricks & loved the clicker. She especially loved to show off her tricks for an audience & people & kids everywhere loved her.
You may be gone, our lovely Miss Bindi girl, but we will never forget you & what you taught us. You will be in our hearts forever.
Bojak Bindi Dreaming ADM JDX ADO5 JDO GDX SPDX SD & Australian Agility Dog Title.
Just 5 days short of your 12th birthday xxxx