Dunwurkn Howz That AD JDX GDX SPD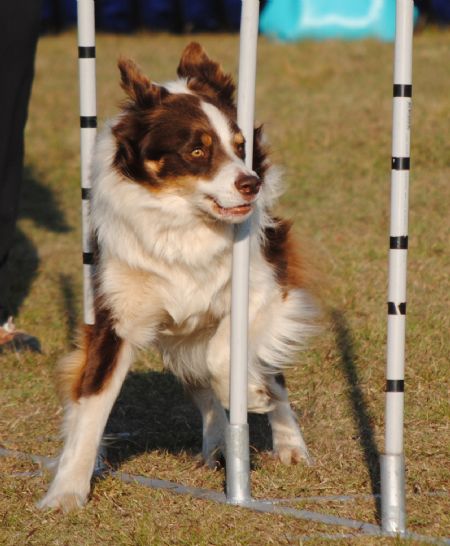 Dunwurkn Howz That AD JDX GDX SPD JDO SD
Chocolate Tri Colour...Born 9th March, 2011
Sire: Faithet Woody Willow (S. Sarasota Dapper & Daring / D. Bojak Choc Willow)
Dam: Dunwurkn Spring Fling (S. Borderstrand Milo N Milk / D. Wottapud Roki Road)
Growing Up
9th August 2011 Cricket is too young to compete in Agility, or to train on full size equipment, but his foundation work training has already begun. So far by the age of 5 months, he has learnt sit, drop, excellent stay, recall, walk backwards, two on/two off contacts, puppy jumping (with stride regulators), tunnel work, tug play & release, handler focus, hand & target touching & other training necessary for a career in Agility & just plain "good manners"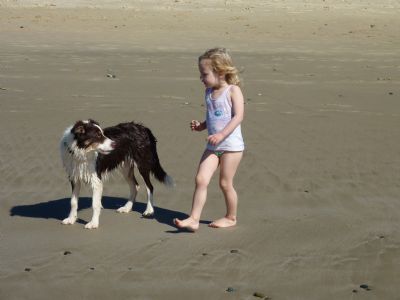 Cricket @ 5 months playing on the
beach with Chloe

9th September Cricket is now 6 months old & he continues to amaze us with how quickly he is learning new things. He is up to 2 sets of weave poles, getting his entries right most of the time. They are still offset & will remain so for a while longer till he gets a bit older. He has a lovely stay while performing 2on 2off on the contact board. His loose lead walking, heeling & recall are progressing well & he has a good pause table performance. His favourite game is Ready, Steady, Go & will not move a paw till released. We have ordered him (& Bindi) a new tunnel as they completely demolished the old one :))
Cricket @ 7 Months is a BIG puppy, weighing in @ 19.8 kilos & standing almost 53 cm at the shoulder. He is loving the swimming pool, probably too much, as he gets over excited when the pool's in use, but he's not invited & tries to jump the fence (not good). So we need to do some work on him there.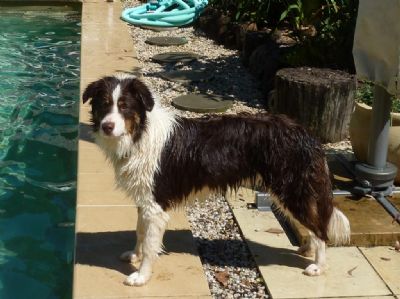 His Agility Foundation training is going well & we are very pleased with both his start-line-stay & his drive off the mark. Here is a link to a video showing his SLS & Puppy Jumping
Puppy Jumping with Fantastic Lead-out
He does a lovely "send to table" with an instant "drop" & stays put until released.
November 9th 2011 Cricket is now 8 months old & his growth seems to have slowed down. His previously lovely drops on the table have become a thing of the past :((
but we are working on it!!
He continues to have a lovely start line stay, which is good as we will need to be able to get a good lead-out on him, to be able to keep up.
Cricket's lead-out over the dog walk (video link)
He can now do a simple sequence consisting of 6 weave poles (offset), Puppy-jumps, A-frame (down low), send to tunnel & a low dog walk. Contacts are good.
Cricket doing simple sequencing (video link)
Cricket @ 9 months is still growing & has had a "100% thumbs" up by the vet. We have been working on teaching him to work away from us...ie..distance handling. First the "go on" command, where he is taught to go on ahead taking all the jumps in his path, then the "out" command, where he learns to move laterally away & take obstacles. A short video showing Teaching Cricket to Work Away
We have also been working on his contacts & pause table performances.
He is still on Puppy Jumps & the weave poles are still offset. Here is a video of him doing a full short course @ the age of 9 months. Cricket...full course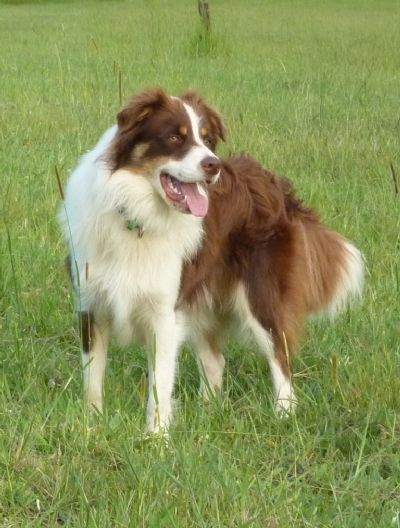 Cricket @ 11 months
Sometimes it is hard to remember this guy is still just
a "puppy". He is so hansome & has the sweetest, most laid-back personality. However, with his agility training he is very keen & super fast. He has finally learnt to "retrieve", which makes it easier to use toys as rewards in his training.
He loves to swim & is obsessed with our pool

Swimming Pools, Kids & Dogs :))

Cricket's first birthday 9/3/12
What a fun year we have had with this "little" guy. He has brought us so much joy & laughter, as well as being such a great playmate for our older dog, Bindi. I thought it only fitting to make a video to celebrate the first year of his life & may he have many, many more. Happy Birthday, Cricket. xx
Link to Cricket's Tribute, 1st 12 months.. Video
Cricket's First Agility Trial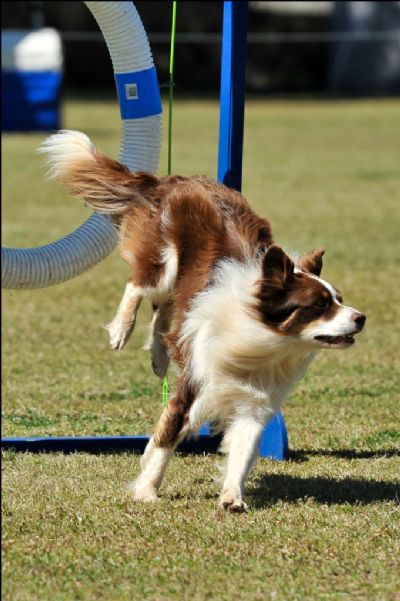 Cricket had his very first trial in Coffs Harbour in September 2012 @ 18 months of age. He measured in at 545mm which is the border line between jumping 500 or 600...one more mm & he would have had to jump 600. He was a little over excited by the whole affair, but did exeptionally well in Novice Gamblers. He had to score 20 points in the opening sequence but he managed 36 points, but missed out on the gamble ...... the buzzer went as he was in mid air over the last jump. Here is a link to the video of that exciting run.
Spectacular Novice Gamblers Run
He did the Novice Jumping in just 19 seconds with one fault & was beaten for first place by his sister Spree, who had a clear round.
He gained his first "Q" at his second ANKC trial at Armidale in October in the Novice Jumping, with a spectacular lead out, super quick run & 2nd place, in half the set course time (SCT)
Agility Titles Gained
14th April 2013 @ Armidale Novice Jumpers
18th May 2013 @ Port Macquarie Novice Gamblers
22nd June 2013 @ Glenreagh Novice Strategic Pairs
20th September 2014 @ Coffs Harbour Novice Agility
19th September, 2015 @ Coffs Harbour Jumping Dog Excellent

12th March, 2016 @ Coffs Harbour Gamblers Dog Excellent
2018 Jumping Dog Open
2018 Snooker Dog Novice
Cricket doing his Superman Impersonation on our dam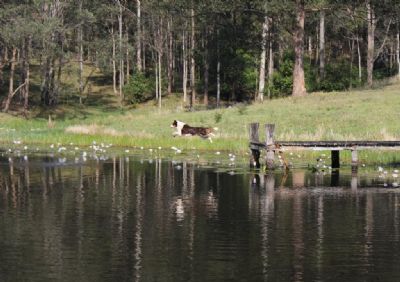 He has definately inherited his Dad's Frisbee Gene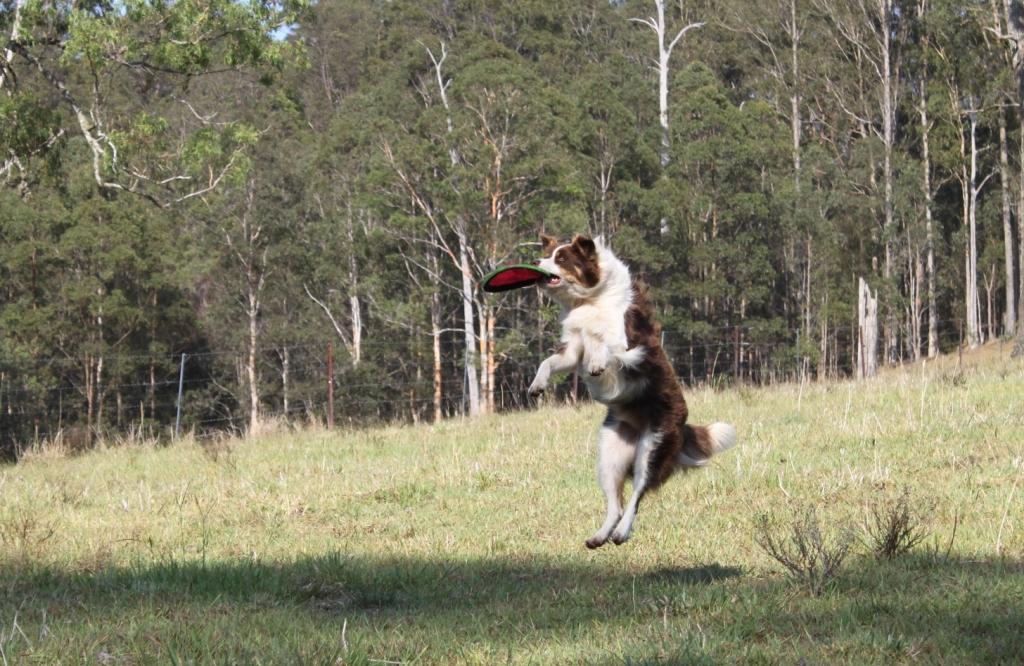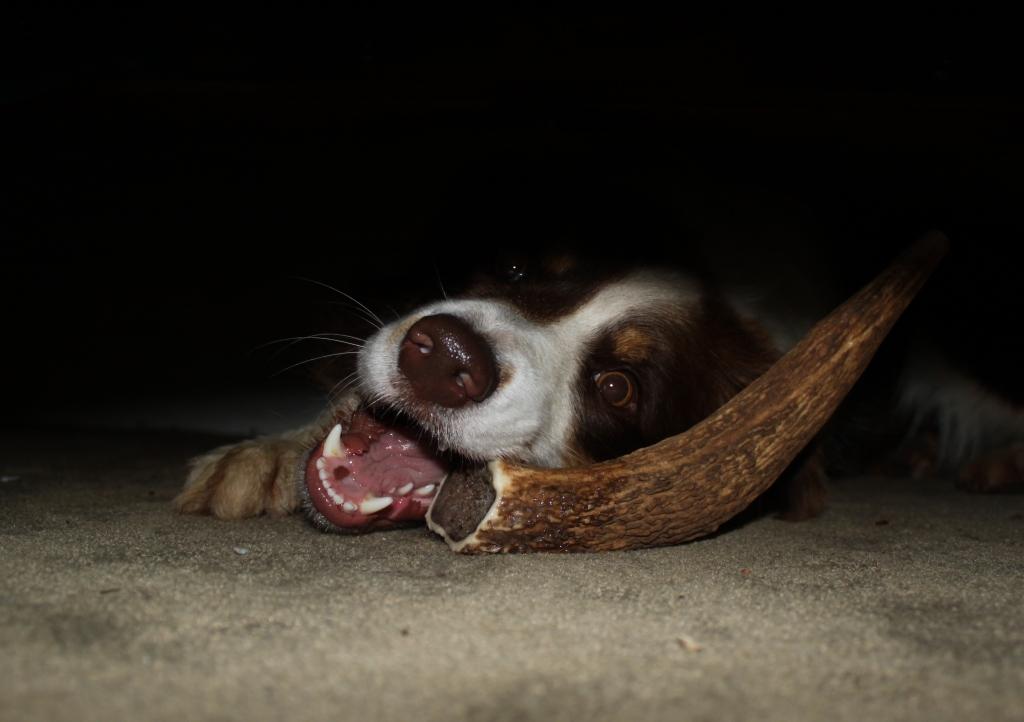 Enjoying his new Deer's Antler