DVD's, Books & Training Links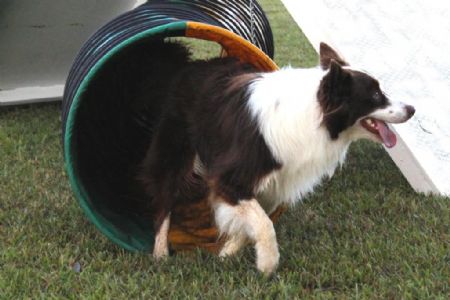 DVD's, & Books We have found helpful
Please note that this list is inconclusive as I keep adding more & more to
my library...I just can't get enough :) just too many to list.
Especially now I have a Kindle & can download books digitally.
All available from Clean Run @ https://www.cleanrun.com/
Puppy & Foundation Training
The Focused Puppy.... Deborah Jones & Judy Keller (Book) (highly recommend)
The Pre-Sports Puppy....Rachael Sanders
Foundation Fundamentals....Mary Ellen Barry (highly recommend)
Puppy Jumping....Susan Salo
Puppy Sounds....Dean Lake
In Focus/Foundation Work....Deborah Jones & Judy Keller
Tug More, Learn More....Kay Laurence
Crate Games....Susan Garrett (highly recommend)
Really Reliable Recall....Leslie Nelson (highly recommend)
Agility Foundation Training....Greg Derrett
Success With One Jump....Susan Garrett (highly recommend)
2 x 2 Weave Training....Susan Garrett
More Advanced Training
Go the Distance/Volumes 1 & 2....Stacy Peardot-Goudy
Dial Up the Distance....Kristy Netzer (highly recommend)
On Course to Excel....Greg Derrett
The Winning Combination....Greg Derrett
Great Dog ..Shame About the Handler....Greg Derrett (highly recommend)
Contacts..Bridging the Gap....Rachael Sanders
Walking the Course....Kathy Keats
In Focus...Deborah Jones & Judy Keller (Book)
12 monthly digital subscription to Clean Run Magazine for less than $30.00
https://www.cleanrun.com/index.cfm?fuseaction=category.display&category_ID=380
Training Articles & Games We Have Found Useful
TOT...Triangle of Temptation....by Steve Courtney
https://www.dolforums.com.au/topic/64101-triangle-of-temptation/
TOT is a training in drive & bonding programme, & basically uses meal times to teach focus on you, by creating a triangle between you, the dog & it's meal. The dog learns to offer a sit or drop & is only allowed to eat when he focus's on you & you give the release cue. It deals with the 3D's - Distance, Duration & Desire to build solid stays & quick releases.
Crate Games....Best & quickest way to toilet train your pup. Use the crate to teach solid reliable stays & fast releases. When trained correctly the crate becomes a "safe haven" for your dog & is a place where they like to be...it becomes their "den".
Crates are necessary if ever you are going to trial.
Clicker Training, used for "shaping" your dog to learn new behaviors, tricks & skills. Our dogs will do anything for us when we bring out the clicker & treats.
Focus Games Teaching the dog to focus on you, or the equipment, using the clicker, treats,
and toys, especially tug toys.
LAT...Look At That Game...Leslie McDevitt...
from her very popular Control Unleashed book & DVD,
For "motion reactive" dogs, usually working breeds. These are dogs that are over stimulated, easily distracted & highly reactive to moving things eg. other dogs running, kids playing soccer, cars etc. This game teaches dogs that they can in fact see this type of movement without reacting to it (whether the reaction is simply staring with a strong eye & getting "stuck" or actually lunging, barking & trying to chase). It is also a good game to teach so that a dog does not become overly "handler" focused, as you want your dog to be able to switch between handler focus & obstacle focus.